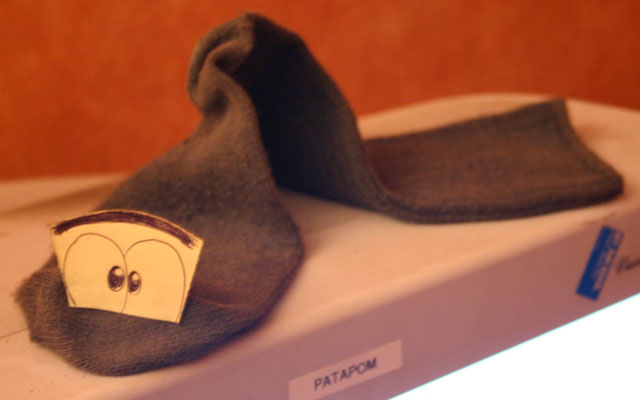 My domestic worm Bidouille says "Hello!"
Photography :
As some of you know, this site is not updated often. Alright! It's NEVER updated! :) Nonetheless, that doesn't mean I'm dead or that I stopped taking pictures.
No, my true homepage for photographs is on Flickr at this address:
http://www.flickr.com/photos/patapom/

New Gallery

Some old galleries that are not on Flickr:
Programming :
Clouds & Atmosphere :
This is an implementation of the Practical Analytic Model for Daylight paper I used for my cloud builder tool.
Also, the first cloud display attempt using an ugly spherical sprite :
(I posted the images as a testimony of my very first steps even though I tend to agree : this doesn't look like a cloud at all! =)
Just so you see I'm not sleeping around, here are the latest snapshots of my clouds :
(Only direct lighing here, no multiple scattering or aerial perspective yet, there are still some bugs in my mesh rendering and.I'm only using one mesh for the whole display)
(But, all in all, it's somewhat resembling more and more to a cloud, isn't it? =)
C# Source code for my little cloud builder application is available here (updated 05-07-31).
Some older snapshots of the New York City mesh for Moto Racer 4 (~650,000 polygons lighted in real-time using my spherical harmonics plug-in) :
The classic Cornell Box rendered with my old photon maps renderer named "Flower"(caustics were disabled here) :
Real-time sub-surface scattering in 3DS Max viewports using 8 spherical harmonic bands :
Contact me...